The number one choice for stratas, estates and commercial properties that need full-scale landscaping services without the carbon footprint.
100% High Performance Equipment. 0% Emissions. Our heavy-duty 100% electric fleet of commercial-grade landscaping equipment can handle acres of properties, with battery-powered mowers, blowers and trimmers, That's maximum performance with minimal disturbance for neighbours, tenants, employees and the rest of the world.
Four seasons of climate-friendly landscape maintenance. Large-scale properties require a dedicated regime of care. The Silent Gardener provides a schedule custom-designed for your property's specific needs, optimized as required for weather.
Quietly tried, tested and certified for over 20 years. The Silent Gardener Ltd is fully insured and qualified for large-scale landscaping contracts. Our teams are trained to deliver the fast, efficient service you expect with less noise and zero emissions. Recognitions and certifications include:
Certified Horticulture Technicians
2012 BCLNA Environmental Stewardship Award
Fall Protection Certification (Green Roof Maintenance)
ITA Apprentice Gardener Training
ISA Certified Arborist with a TRAQ accreditation
If you're serious about climate change, we can help. Operating a commercial gas leaf blower for one hour can emit more pollution than driving a 2016 Toyota Camry for about 1,100 miles. When you add up all of the mowing, blowing and trimming in a year of maintenance on a large property, going 100% electric can make a big difference.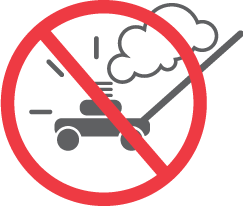 Follow us! Get the latest on sustainable landscaping, electric equipment updates, organic gardening and more.
Went spring and winter colour shopping today for one of our lovely strata clients. We create gardens and provide seasonal colour for our strata and commercial clients. MORE
Contact us for a quote If you require landscaping services for a strata, estate or commercial property in the Greater Vancouver area, we would be pleased to provide you with a customized quote. Please email us with the details, or if you require any information about our process or services.