We have been working toward Electrifying our Fleet of vehicles for several years now. In 2023 we have achieved our goal. We currently are using the following vehicles in out fleet.
Since day one at The Silent Gardener Ltd. the goal has been to reduce the noice we make and the emission we produce for the benefit of our climate and our customers.
We focus on large Commercial and Strata properties using only electric power equipment. Our Largest Mower is a 48 inch Mean Green Stalker. The mower has a 7 hour run time.
So why Tesla Y's? The main thing when it comes to choosing an EV, is the charging infrastructure. Tesla hands down, has the best charging infrastructure. It always works and easy to use. Admittedly not what most people would think could be used for landscaping and pulling trailers.  The Tesla Y has a 3500lb trailer rating and a 350lb tougue weight. More than enough to pull a trailer with our equipment and debris.
One of the main reason's we purchased the van is the ability to charge our equipment in the van with the 2.4 Kw Pro Power on Board. It also makes for a good rolling Billboard.
These are our first and oldest electric vehicles in our fleet. At 90km of range in the summer, the vans have enough range to service our downtown Vancouver clients and get home. The City of Vancouver seems to have some dislike for the trades and are actively working towards making parking difficult. We are lucky to of found these 2 small vans, as they are no longer produced. Without them we would not be able to service some of our downtown clients.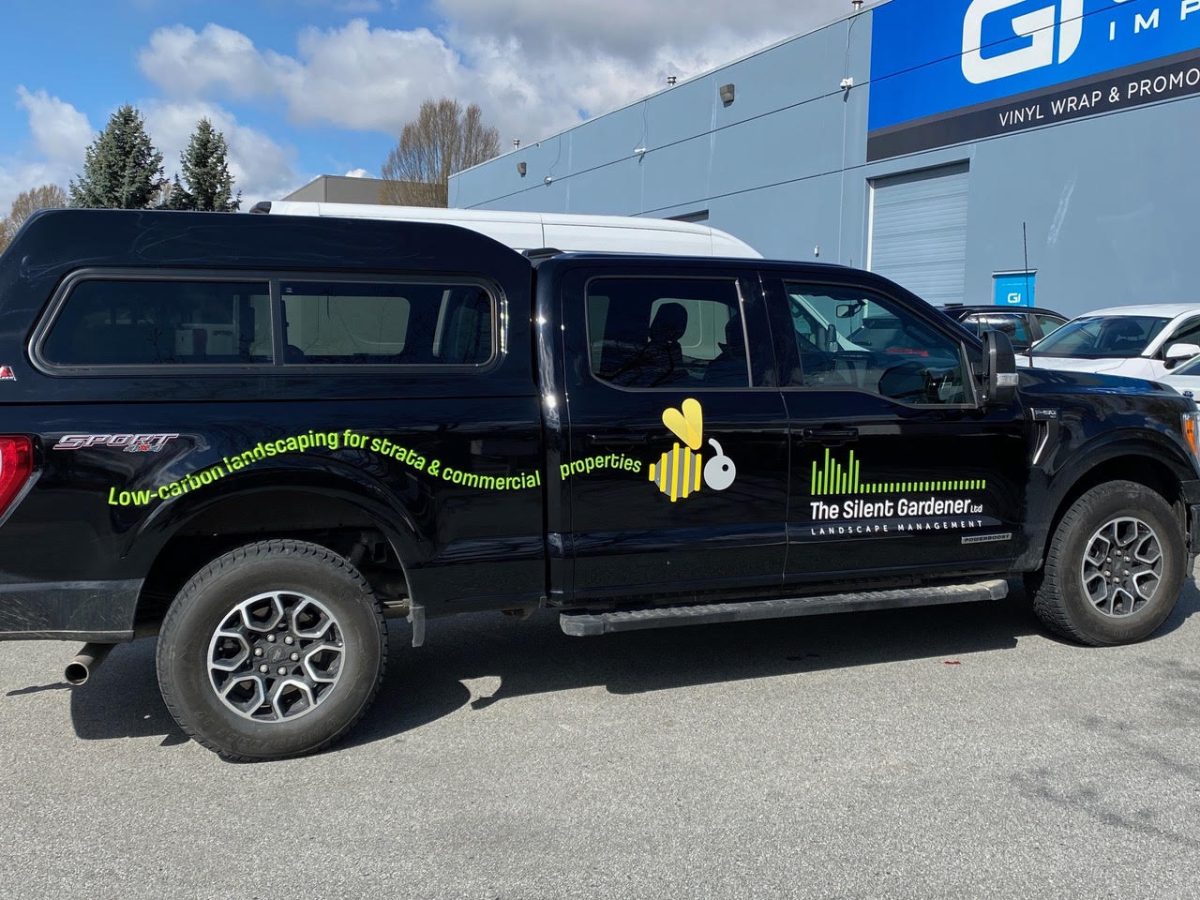 This trucks time in our fleet is ticking. Waiting on a couple of EV trucks to come to market. Elon if you are listening, I want to replace this truck with a Cybertruck. Please let's make this happen sooner than later. Main reasons we currently have the truck is it's a Hybrid. Able to pull our hydraulic dump trailer and the 7.2Kw Pro Power on Board. I hate to say it, but the ability use the Pro Power on Board has saved our butts a couple of times in the last year for emergency charging the Azure Dynamic Ford Transit Connects. The 7.2kw Pro Power gives us the ability to use a level 2 charger.
As you can see we have gone to extreme lengths to reduce the noise and emissions we produce. We have designed the decal packages on our vehicles to tell the world what we do and how we do it. Now imagine our rolling billboards parked in front of your Commercial and Strata properties, letting the world know that you care about the environment we all live in.